Particle Builder | Elemental Gear: Fire Sand Smoke Particular Presets 14664200 - Free After Effects Template [Last Update 21 September 17]
Videohive - Particle Builder | Elemental Gear: Fire Sand Smoke Particular Presets 14664200 - Free After Effects Template [Last Update 21 September 17]
After Effects Version : CC 2015 | Requires Plugins : Trapcode Particular | File Size 321MB
https://videohive.net/item/fx-particle-builder-fire-dust-smoke-particular-presets/14664200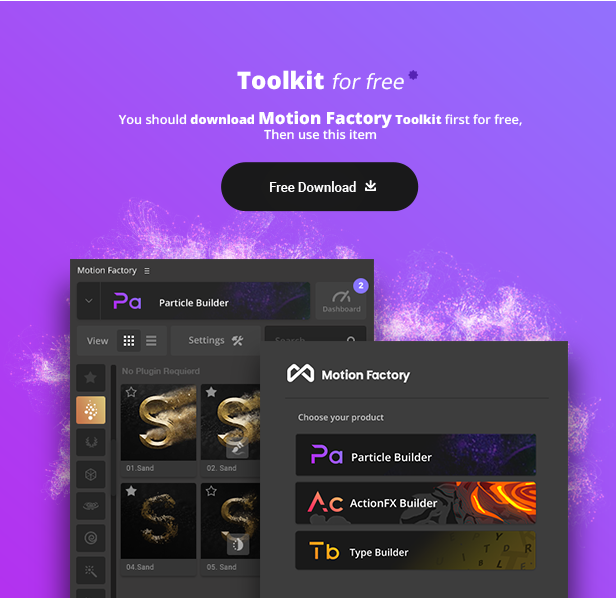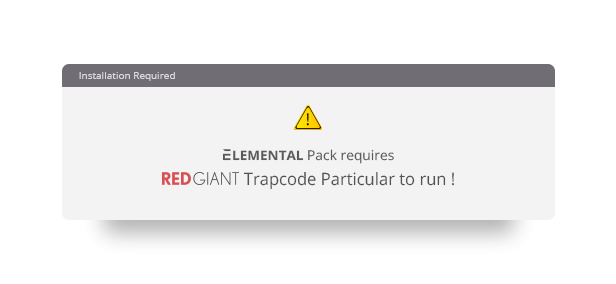 Particular presets – Particle maker – About Particle Builder :
We created this tools for essential needs of motion designers and VFX professionals. It's a particle generator and you create fire, dust, magic, smoke, sparkle, flames or glass particles in fastest and easiest way. You can give life to your still images with brush tool and create different broadcast packages, title sequences, logo reveals or photo slideshows. Works on pictures, texts, video and etc. Also authors can create templates with these different particles.
Package includes :
Particle Builder Script
Quick Guide PDF
Helpful video tutorials
Features :
4 Particle categories :
3 Apply mode :
Brush : brush desired area then apply particle

Alpha : Apply particles to alpha+RGB layers

Point Emitter : Animate particles through a motion path

Updates:
5/14/2017 – Version 2.14
Completely New UI & New Features
Added Switch button ( fast switch between particles )
3/29/2017 – Version 1.3
"Dust" category is now really fast in render and preview.
Improvement to "Dust" category visual look
5/04/2016 – Version 1.2.5
Prevent Licensing problem
4/20/2016 – Version 1.2.4
Set channels to RGBA automatically
Suitable error messages
4/05/2016 – Version 1.2.0
Script checks your internet connection before validating your Purchase Code
Open white viewers panels when you select brush (Problem solved)
"No sequence data" and "Earlier version" warnings (problem solved)
Texture referencing problem in Particualar 2.5 (Problem solved)
one time input purchase code on some Mac (Problem solved)
Music Information :
The music in demo is not included. You can purchase it from Audiojungle.net :
Rock Trailer
from
ElevateAudio
If Link are Dead Please Leave a Comment Here - Go Back